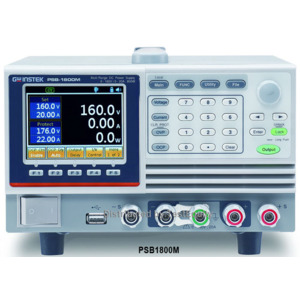 Estimated Mfr lead time:
14 Days
Description

Specifications

Documents
Multi-Range: 40 VDC, 160 VDC – 400 W & 800 W
LCD display and menu-typed functionality selection
Auto-ranging 4:1 output power
Internal Sense Control(Disable/ front panel/ rear panel)
Parallel or Series operation
Output power accessed from front banana jacks or rear bus bars
Variable "Power On" configurations
OCP Control
Support front panel output terminals (Max.30A) and rear panel output terminals (Rating current output)
Voltage trigger, Output delay, Internal resistance setting
I/V Control
Sequence function
Bleeder Circuit
Interface: USB Host, LAN. GPIB optional w/ PSB-105 Card
Warranty: 2 Years on Instrument, 1 Year on LCD display
The GW Instek PSB-1000 series are single output channel, programmable and multi-range a bench-top DC power supplies. The series is comprised of four 400 W models: PSB-1400L (40 V/40 A); PSB-1400M (160 V/10 A), and 800 W models: PSB-1800L (40 V/80 A); PSB-1800M (160 V/20 A).

Parallel/Series Operation
The maximum voltage output of 320 V can be realized by placing 160 V units in a series connection. By connecting PSB-1800L units in parallel, the maximum current output of 320 A can be achieved. Output power can be accessed by front banana jacks or rear bus bars.

The PSB-1000 series models feature a user-friendly interface, which can clearly display settings and measurement results with its bright LCD display. All settings can be controlled by function, numeric, and speed dial keys. The 30 A output capability from the front terminal meets the requirements of laboratories and scientific R&D units.

Sequence Function
There are 10 sets of the Sequence functions that determine record settings. Automatically executing sequential waveforms can be done without connecting to a PC. For instance, sequential power output simulates the power supply of DUT's aging battery to understand the impact on DUT's characteristics.

The Bleeder function helps rapidly bleed internal capacitors to avoid potential electric charge danger. For battery-charging applications, you can set the Bleeder to "Disable" to avoid compromising battery charging applications.

I/V Control
The I/V Control function, based upon DUT's requirements, sets rise and fall speed of voltage and current respectively to effectively reduce surge voltage.
Adjustable Slew Rate: Voltage and current rise/fall are adjustable. Four measurement modes are offered:

• CVHS - Voltage w/ maximum speed Slew Rate
• CCHS - Current w/ maximum speed Slew Rate
• CVLS - Users set voltage Slew Rate
• CCLS - Users set current Slew Rate

    

Model
Output Voltage
Output Current
Output Power
PSB-1400L
40
40
400
PSB-1400M
160
10
400
PSB-1800L
40
80
800
PSB-1800M
160
20
800
Note: The power rating determines the maximum available current for a given voltage output. For example, the 1400L is rated as 40 V, 40 A, or 400 W, but you cannot get 40 V and 40 A simultaneously. The maximum current at 40 V is 10 A (40 V x 10 A = 400 W).

Please refer to

Brochure

for complete specifications.
Analog Programming Connectors
The rear panel of the PSB-1000 series has a 26-pin analog control terminal that's designed to perform remote control and monitoring functions. External voltage or resistor can be utilized to set output voltage and current. The power supply output on/off control and master power shut-down can also be controlled by using the external switch. The analog control terminal is complied with the Mil 26-pin connector (OMRON XG4 IDC plug) standard.
Included with PSB1000B Power Supplies: User Manual on CD, Quick Start Guide, Programming Manual, Power Cord, Output terminal cover, Type A-B USB Cable, Analog connector plug set and Chassis connection wire.
Estimated Mfr lead time:
14 Days