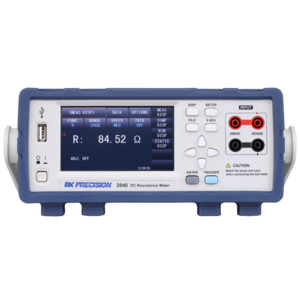 Estimated Mfr lead time:
42 Days
Description

Specifications

Documents
4.3-inch color touch screen 4-wire Kelvin test leads included Low power resistance mode to protect DUT Manual or auto ranging Adjustable measurement speed for fast readout or better accuracy Fast measurement speed up to 20 ms/reading to increase manufacturing throughput 4-1/2 digit display Cable compensation (0 ADJ) BIN comparator function to sort components in up to 3 bin locations Bin-sorting with statistical measurement Store/recall 30 instrument settings Screen capture to USB drive Selectable power line filter Trigger delay Handler interface for easy integration with a component handler Standard RS232, USB (USBTMC and virtual COM) Three-year warranty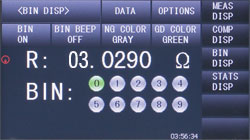 Quickly sort components using the 3 bins of the 2840. The results can be displayed on the screen or output via the handler interface. High and low limits can be set up in absolute or tolerance mode.
High accuracy and resolution measurements in the milliohm range
B&K's 2840 DC resistance meter is ideally suited for measuring contact resistance of relays, switches, and PCB traces, typically outside the resistance range of multimeters. The 2840 is equipped with an intuitive front panel complete with a keypad and a vivid 4.3-inch color touch screen. Additionally, it supports fast cycle times for production automation and includes a BIN comparator function.
Intuitive user interface
The touch screen and keys both provide a convenient interface for setting parameters quickly and precisely. Both models also support one touch zoom to enhance the readability of displayed measurements.


Kelvin Test Leads
LPR (Lower Power Resistance) measurement
The 2840 features low power resistance testing (LPR) modes and variable measurement speeds that are suited for a wide range of applications. The handler interface with high-speed measurement capabilities enable the 2840 to evaluate a large quantity of components and be integrated into an automated test system.
Offset voltage compensation (OVC)
OVC switches the polarity and averages the forward and reverse polarity readings. This enables accurate measurements by minimizing the adverse effects of thermal EMFs or small biases in a circuit (e.g., from a capacitor's dielectric absorption when measuring a PCB trace).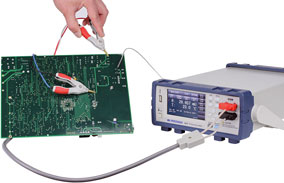 Circuit Board Testing
The 2840 Series' high accuracy make them suitable for measuring trace resistances and finding shorts on PCBs.
| Model | 2840 | 2841 |
| --- | --- | --- |
| Display Range | 1 μΩ to 20 kΩ | 0.1 μΩ to 100 MΩ |
| Basic Accuracy | 0.1% | 0.01% |
| Measurement Resolution | 1 μΩ | 0.1 μΩ |
| Displayed Digits | 4-1/2 | 5-1/2 |
| Functions | R and LPR | R, R-T, T, LPR, LPR-T |
| Resistance Measurement Ranges | 7 + Auto | 11 + Auto |
| Temperature Compensation | n/a | √ |
| Number of Results Bins | 3 | 10 |
Included with 2840: AC power cord, user's manual, TLDK1 kelvin test leads, and test report and certificate of calibration.
Estimated Mfr lead time:
42 Days