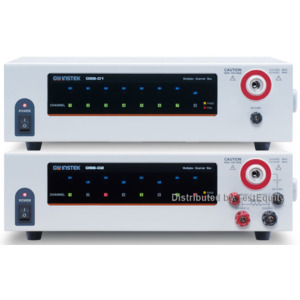 Estimated Mfr lead time:
14 Days
Description

Specifications

Documents
GSB-01: 8-channel High Voltage Scanner Box
GSB-02: 6-channel High Voltage + 2-channel Ground Bond Scanner Box
5kV AC, 6kV DC
Insulation Resistance 1k DC
Ground Bond 40A [GSB-02 only]
High-intensity LED for Channel, Status & Judgment indications
Bus up to 4 scanner boxes
Interface: RS-232C
Front & rear input connector design, suitable for the GPT-9800A series
Three-year warranty
GW Instek's GSB-001 and GSB-002 multiplex scanner boxes distributes the test voltage or current provided by the GPT-9800/9900A series to multiple test points. Up to eight channels can be used for outputs on one scanner. You can conduct AC/DC withstanding, insulation resistance and ground bond test on test points depending selected scanner model. Furthermore, up to four scanners can be connected to the tester, allowing a maximum of 32 channels. These features ensure highly reliable and labor-saving for electrical and electronic equipment with multiple test points.
An electric potential mode for each channel   HI (voltage applied), LO (return) and X (open mode)   can be set either by the front panel operation or through commands by the USB/RS-232C of GPT-9800/9900/9900A. These scanner boxes handle withstanding voltage to 5 kV ac / 6 kV dc and insulation resistance voltage to 1 kV dc, as well as the ground bond current to 40 A ac. This allows labor-saving, reliable withstanding voltage, insulation resistance or ground bond testing of electric or electronic equipment or electronic components with multiple test points.
GSB-001, GSB-002 Multiplex Scanner Boxes
 
GSB-01
GSB-02
H.V. Rating
5kV ac/ 6kV dc
5kV ac/ 6kV dc
High Current Rating
-
40 A ac
# of H.V. Channels
8 channels
6 channels
# of G.B. Channels
-
2 channels
Max. Scanners
4 Scanners (up to 32 channels)
Interface
RS-232C for connection between tester or scanner box
The GSB-001, GSB-002 are dedicated options for Instek's GPT-9800/9900A Series Electrical Safety Testers. Please refer to Data Sheet for complete specifications.
Included: User's Manual on CD, Quick Start Guide, Power Cord, HV Wiring lead, GHT-108, GB Wiring lead [GSB-02 only] and one (1) GTL-235 RS232 cable. Test leads also included:
with GSB-01: eight (8) GHT-116R HV test leads and one (1) GHT-116B Return test lead
with GSB-02: six (6) GHT-116R HV test leads, one (1) GHT-116B return test lead, two (2) GTL-116R Ground Bond "H" leads, one (1) GTL-116B Ground Bond "L" lead.
Estimated Mfr lead time:
14 Days