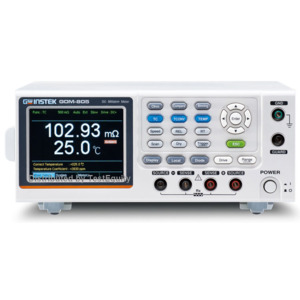 Description

Specifications

Documents
50,000 count, 3.5" TFT LCR display
Independent function and direction keys
High Accuracy of 0.05% precision
1 A test current, 1μΩ resolution
Ground/Guard terminals eliminate measurement noise
Four-wire measurement terminal
Fast measurement of 60 readings/sec
Temperature compensation measurement w/ probe port
Dry Circuit test (GOM-805)
Drive modes: DC+/DC-, Pulsed, PWM, Zero (GOM-805)
Interface: USB device, RS-232C, Handler/Scan/Ext I/O; GPIB included with GOM-804GP and GOM-805 only
Warranty: 2 Years on Instrument, 1 Year on LCD display
GW Instek's GOM-804 and GOM-805 DC Milliohm meters feature a 3.5" TFT LCD 50,000 count display, rapid 60 readings/sec, and 0.05% measurement accuracy in addition to independent function keys and intuitive control for convenience and operation speed. The GOM-805 includes various drive modes and Dry Circuit test as well as 20 sets of panel memory and external control interfaces.
The GOM-805 provides Dry Circuit and various drive modes (DC+, DC-, Pulsed, PWM) for measuring various materials. The pulsed current output mode is suitable for interacting with conductors of different materials and can reduce the thermal EMF influence. The DC+ and DC- output modes are best for the measurement requirements of inductive components. The PWM output mode, ideal for changing temperature-sensitive materials, can avoid resistance value variation due to a lengthy overload duration. Dry Circuit can limit the applied voltage to avoid an over-voltage situation which can damage the oxide coating and the thin layer of contact surface.
The GOM-804 and GOM-805 provide a D-sub 25-pin interface to connect to a sorting machine, external on-off switch, or external trigger control. For remote control operation and measurement retrieval, RS-232C, USB, and GPIB (optional w/ GOM-804, standard w/ GOM-805) are included.
The GOM-804 offers advances from Instek's earlier GOM-802 platform including increased display digits, measurement speed and standard interface (RS-232C/USB). Additionally, the GOM-805 adds new measurement abilities (Dry circuit and various drive modes) to meet the requirements of broader low resistance measurement applications.
Included with GOM-804/GOM-805: User Manual on CD, Quick Start Guide, Programming Manual, Power Cord, Output terminal cover, Type A-B USB Cable (GTL-246), Analog connector plug set (GTL-308) and Chassis connection wire.