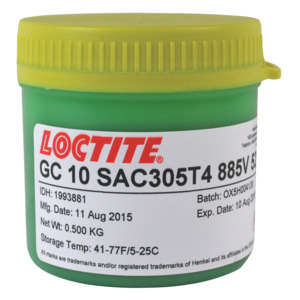 Estimated Mfr lead time:
30 Days
| Qty: | Price: | Savings |
| --- | --- | --- |
| 1 | $123.88 | |
| 5 | $117.69 | Save 5% |
| 10 | $113.97 | Save 8% |
| 20 | $109.01 | Save 12% |
Description

Specifications
No thaw period is required, allowing for immediate start-up
No refrigeration need improves logistics efficiency and reduces shipping and warehousing costs
Stable at 26.5°C for 1 year and at temperatures of up to 40°C for 1 month
Improved expansion of the reflow window and increased activity for better reflow results
Improved on-line paste utilization of more than 95% (compared to traditional materials with approx. 75% paste utilization)
Soak temp between 150°C and 200°C (compared to traditional materials with a peak soak temp. of 180°C)
GC 10 solder paste is a halogen free, no-clean, low voiding, Pb-free solder paste specially formulated to provide added long term stability over a range of temperature conditions. The enhanced paste stability created through its novel formulation strategy, increases both field application yields and on-line paste utilization.

GC 10 shelf life is stable at 26.5°C for one year and at temperatures of up to 40°C for one month, which provides benefits throughout the logistics and operations chain from shipping/receiving to printing and reflow. The temperature stability of the material delivers exceptional performance attributes such as 24-hour abandon times, stabilized and consistent print transfer efficiency, expansion of the reflow process window, more than 95% on-line paste utilization and significant reductions in solder-related defects.

GC 10 offers excellent solderability when reflowed in both air and nitrogen across a wide range of challenging surface finishes and component metallizations including immersion Ag, OSP-Cu, ENIG and CuNiZn. It supports excellent reflow to overcome industry wide HiP and NWO challenges. The new flux chemistry will protect the solder longer, improve coalescence and optimize wetting performance, allowing for very shiny solder joints. Suitable for use with industry standard SAC alloys.
Game Changer Room Temperature Stable to Eliminate Cold Storage

Alternate Product Number: 
SAC305
Storage Temperature: 
Optimal storage: 5 to 25ºC
Features & Benefits: 
Halogen-free flux: passes IC with pretreatment IPC-TM-650 2.3.34/EN14582, Halogen-free flux classification: ROL0 to ANSI/J-STD-004 Rev. B, Printing: Fine pitch capability (0.3 mm), stencil life (>16 hours), and abandon time (>8 hours), Improved paste tran
Melt Temp [F]: 
302-392°F (150-200°C)
Shelf Life: 
Provided that LOCTITE GC 10 is stored in the original container, a minimum shelf life of 365 days at 5 to 25˚C or 31 days at 40°C can be expected. Air shipment is recommended to minimise the time the containers are exposed to higher temperatures.
Time Range: 
Abandon Time 8-24 hours
Estimated Mfr lead time:
30 Days
| Qty: | Price: | Savings |
| --- | --- | --- |
| 1 | $123.88 | |
| 5 | $117.69 | Save 5% |
| 10 | $113.97 | Save 8% |
| 20 | $109.01 | Save 12% |