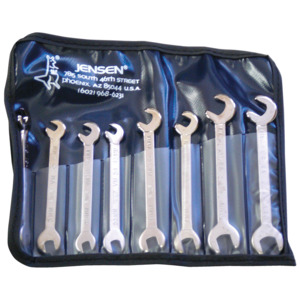 Estimated Mfr lead time:
19 Days
Description

Specifications

Documents
Our Jensen hand tool products have merged to the brand, Techni-PRO. All the product specifications and functionality remain the same.
Open-end precision forged wrenches with both 15° and 60° head angIes for ease of use. Metric Set incIudes sizes 4, 4.5, 5, 5.5, 6, 7, 8, and 9mm. Set is supplied in vinyl roll pouch.

Includes: 
(8) Wrenches, (1) Vinyl Roll Pouch
Measurement System: 
Metric
Opening Size: 
4, 4.5, 5, 5.5, 6, 7, 8, 9mm
Estimated Mfr lead time:
19 Days