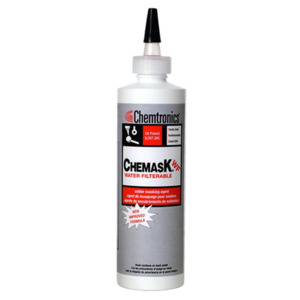 | Qty: | Price: | Savings |
| --- | --- | --- |
| 1 | $28.08 | |
| 10 | $26.68 | Save 5% |
| 30 | $25.83 | Save 8% |
| 50 | $25.27 | Save 10% |
Description

Specifications

Documents
Protects boards from molten solder to 515°F (268°C)
Waste stream filterable with micron bags
Prolongs deionized water system life
Low foaming
Compatible with most flux types
Leaves no corrosive residue
Does not contain Methanol
Non-contaminating
Chemask WF solder masking agent is a high temperature temporary spot mask that protects component-free areas from molten solder during wave soldering. It is water soluble, designed to be removed with open and closed loop aqueous cleaning systems. Chemask WF is low foaming and has no effect on deionized water (DI) system resin beds. This water soluble formulation is stable to rosin, organic and inorganic fluxes.

Container Type: 
Squeeze Bottle
Lead Free Solder Compatible: 
No
Material: 
Synthetic Resin
Cure Time: 
Full @ Room Temp 60 min.
Withstand Temperature: 
515°F
Surface Type: 
Safe For Sensitive Metals
| Qty: | Price: | Savings |
| --- | --- | --- |
| 1 | $28.08 | |
| 10 | $26.68 | Save 5% |
| 30 | $25.83 | Save 8% |
| 50 | $25.27 | Save 10% |