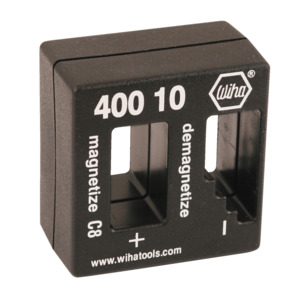 Estimated Mfr lead time:
12 Days
Description

Specifications
Works with items over 1.35" in length and 1/8" or 3mm diameter
Uses powerful c8 permanent industrial ceramic magnets
Enables easier handling of fasteners in tight spaces
Enables you to leave one free to position a workpiece
Dimension are 2 x 2 x 1.125 - Inches

It's common for screws to drop to the floor or become lost when you try to fasten them. The Wiha magnetizer provides a solution to this problem. It magnetizes screwdriver blades quickly and effortlessly so that screws and small parts can be mounted much more easily. You can demagnetize the screwdriver again by pushing it through the steps several times until it is demagnetized. The tool's strong permanent magnet has a long service life and is suitable for magnetizing tweezers and other steel tools as well.

Includes: 
Magnetizer Demagnetizer
Magnet Type: 
Shock-Resistant, C8 Permanent Industrial Ceramic
Warranty Information: 
Backed by the Wiha No Hassle Guarantee
Estimated Mfr lead time:
12 Days