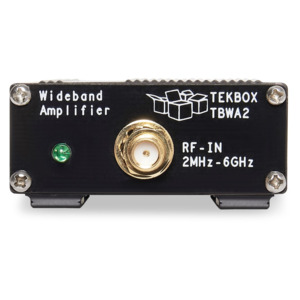 Description

Specifications

Documents
Amplifier Specs:
20dB Wideband Amplifier
Input / Output: 50 Ohm, SMA
Nominal supply Voltage: 4.5 - 5V, typ. 110mA, Mini-USB-B connector
Maximum supply voltage: 5.5V
Maximum input power: +10dBm
TBWA2 wideband RF amplifiers are versatile building blocks which can be easily integrated into laboratory setups. With a frequency bandwidth range of 2MHz to 6GHz, it's fitting to use them to boost signals picked up by EMC near field probes. The TBWA2 wideband amplifiers are available in 20dB or 40dB gain.
In The Box:
1 x 20 dB amplifier
1 x 25cm SMA-male to SMA-male cable
1 x 75cm SMA- male to N-male cable
1 x SMA-female to N-male coaxial adapter
1 x USB cable
1x Measurement plot
Manuals/Guides
Includes: 
Wideband Amplifier; 75cm SMB to SMA cable; 75cm SMA to N cable; USB cable; Measurement plots