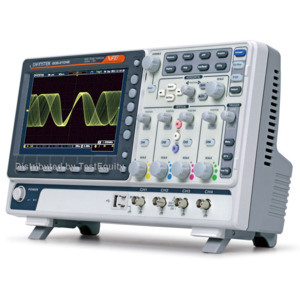 Estimated Mfr lead time:
13 Days
Description

Specifications

Documents
200, 100, 70 MHz Bandwidth models; 2- or 4-Channels
1 GSa/s Real-Time Sampling Rate for Each Channel (2 ch. models);  1 GSa/s Maximum Real-Time Sampling Rate (4 ch models)
Standard 10M Maximum Memory Depth and VPO Waveform Display Technology
Waveform Update Rate of 120,000 wfm/s
8" WVGA TFT LCD Display
FFT with Maximum 1M points to Provide Higher Frequency Domain Resolution Measurement
High and Low Pass Digital Filter Functions
29,000 Sections of Segmented Memory and Waveform Search Functions
I2C/SPI/UART/CAN/LIN Serial Bus Trigger and Decoding Function
Data Log Function Tracks Signal Changes Up To 100 hours
Provide Remote Internet Storage Function
Three-year warranty
2- and 4-Channel models in 70, 100 and 200 MHz Bandwidths
The GDS-2000E digital oscilloscope series features bandwidth selections of 200 MHz, 100 MH, and 70 MHz. The two-channel models provide 1 GSa/s real-time sampling rate for each channel; while the four-channel models provide 1 GSa/s maximum real-time sampling rate. All models are equipped with waveform update rate of 120,000 wfm/s.
Fast Retrieval, Precision Measurement
The GDS-2000E series provides 10 Mega point record length in each channel with Waveform Search and Segmented Memory functions, which greatly enhance the value of long memory utilization of these DSOs. The 8-inch 800 x 480 TFT LCD display and the minimum 1mV/div vertical range allow the GDS-2000E series to measure complex feeble signals and clearly display complex and random waveforms.
Low Background Noise
For small signal measurement, oscilloscope's background noise will affect the measurement results. The GDS-2000E low noise amplifying circuit can tremendously improve overall noise interference to produce the genuine signal demonstration.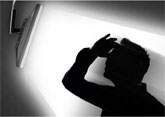 GDS-2000E oscilloscopes feature adjustable backlight intensity.
GDS-2000E Series Digital Storage Oscilloscopes
 

GDS-2072E

GDS-2074E

GDS-2102

GDS-2104E

GDS-2202E

GDS-2204E

Channel
2 ch + Ext
4 ch
2 ch + Ext
4 ch
2 ch + Ext
4 ch
Bandwidth
(-3dB)
DC to
70 MHz
DC to
70 MHz
DC to
100 MHz
DC to
100 MHz
DC to
200 MHz
DC to
200 MHz
Rise time
5 ns
5 ns
3.5 ns
3.5 ns
1.75 ns
1.75 ns
Bandwidth Limit
20 MHz
20 MHz
20 MHz
20 MHz
20M/100MHz
20M/100MHz
Please refer to Data Sheet for complete specifications.
120,000wfm/s Waveform Update Rate
The GDS-2000E digital oscilloscope allows you to easily observe rare transient waveforms and jitters with the high waveform update rate of 120,000 wfm/s. The advanced VPO (Visual Persistence Oscilloscope) signal processing technology combines the multi-layered gray display to enhance waveform display efficiency that allows you to easily and completely observe inrush signals and rare transient waveforms to increase waveform debugging efficiency.
1M FFT Display
The FFT (Fast Fourier Transform) function of the GDS-2000E Series provides the maximum 1M points display. The function supports four window displays, including Rectangular, Hamming, Hanning, and Black-harris, allowing you to select window display for frequency domain analysis according to your test requirements. The GDS-2000E series not only provides the FFT function but also FFTrms, vertical adjustment, and local zoom-in functions. Via rapid waveform update rate and waveform search functions, you can precisely observe the test results of frequency domain.
Support I2C/SPI/UART/CAN/LIN Decoding and Analysis
The serial bus technology has been widely applied in the present embedded application design. The GDS-2000E series provides serial bus analysis function and 10M long memory depth to trigger, decode, and analyze, in a long period, frequently used I2C, SPI and UART serial bus and CAN/LIN bus, which is often used by automotive communications.
The GDS-2000E series shares many rich functionalities with the GDS-2000A series — including Zoom Window, Play/Pause, 36 automatic measurements with statistics mode, and remote software and digital voltage meter.
GDS-2000E
GDS-2000A
Bandwidth
70/100/200 MHz
70/100/200/300 MHz
Sampling Rate
Max. 1GSa/s (4 channel model)
Per channel 1GSa/s (2 Channel model)
Max. 2GSa/s
Memory Depth
10 M
2 M
Display
8" TFT LCD WVGA (16:9, 800 x 480)
8" TFT LCD SVGA (4:3, 800 x 600)
Waveform Update Rate
120,000 WFMs/sec
80,000 WFMs/sec
Options
N/A
Logic Analyzer, Function generator, GPIB, LAN/VGA
Waveform Signal Process
+, —, X, ÷, FFT, FFTrms, User-defined math
+, —, X, ÷, FFT, FFTrms, ∫dt, d/dt, √
Interface
USB (1 device, 2 host), Go/NoGo, Kensington lock, LAN
USB ( device *1, host *2 ), RS232, Go/NoGo, Kensington lock, GPIB (optional), LAN/VGA output (optional)
The GDS-2000E Series' applications include educational training and laboratory, Q/A testing, serial bus design and debugging, and maintenance services.
Included: user's manual on CD, quick start guide, power cord, (1) probe per channel: GTP-070A-4 (70 MHz), GTP-150A-4 (100 MHz), GPT-300A-4 (200 MHz).
Free download: OpenWave software. Driver: USB driver, LabVIEW.
Estimated Mfr lead time:
13 Days