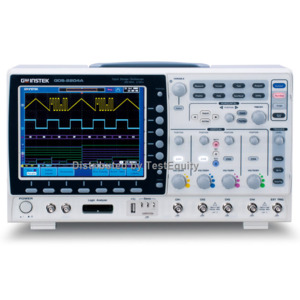 Estimated Mfr lead time:
14 Days
Description

Specifications

Documents
300 MHz/200 MHz/100 MHz/70 MHz Bandwidth
2 and 4 Channel Models
8 and 16 Channel MSO field installable upgrade options
Function Generator field-installable upgrade option
80,000 waveforms/sec update rate
2 GS/s sample rate
2M record length
Segmented memory and search
8" SVGA Display
3-Year Warranty
2 GSa/s Real-time Sampling Rate and up to 300 MHz Bandwidth
GDS-2000A Series Digital Storage Oscilloscope offers 2 and 4-channel configurations and wide bandwidth selections, including 300 MHz, 200 MHz, 100 MHz and 70 MHz. Each model provides 2GSa/s maximum real-time sampling rate and 100GSa/s high-speed equivalent-time sampling rate. Equipped with an 8-inch 800 x 600 high-resolution TFT LCD display, 1mV/div to 10V/div vertical range and 1ns/div to 100s/div time base, the GDS-2000A Series is able to faithfully demonstrate waveforms of complicated and obscure signals.
2 Mega Point Record Length, Waveform Search and Segmented Memory Functions
The GDS-2000A Series provides 2 Mega point record length, and Waveform Search and Segmented Memory functions as standard features. The events of interest can be captured and saved into the Segmented Memory, which can be divided into 2048 sections, for observation, while the irrelevant waveforms can be ignored. Consequently, the overall efficiency of memory usage can be enhanced. Under Waveform Search mode, after the input signal is triggered, the GDS-2000A Series is able to Search and Mark the waveform sections, which comply with user-defined search condition and threshold level within the whole memory. Meanwhile, with Zoom window and Play/Pause button to scroll through whole displayed waveform, the user can rapidly navigate all the waveforms in an efficient way.
Upgrade to Mixed Signal Oscilloscope (MSO)
The GDS-2000A series provides the flexibility of easy conversion from a DSO into a MSO (Mixed Signal Oscilloscope) under a plug-and-play concept. As two plug-in compartments are available at the rear panel to accommodate various plug-in modules, the GDS-2000A series DSO with an 8 or 16 digital channels module performs MSO functions perfectly at the user's installation of the module. The analysis and decoding functions of parallel bus and serial bus such as I2C, SPI, and UART are supported after the module is installed. GDS-2000A is regarded as an effective tool in signal analysis, trouble diagnosis and debug.
3 MHz Function Generator Option
The plug-in module of DDS (Direct Digital Synthesis) based function generator is provided as an option of the GDS-2000A series. The function generator, with 3 MHz bandwidth, is able to generate Sine, Triangle and Square waveforms, with variable duty cycle of the square waveform. Two function generators can be used at the same time to provide dual output signals. With the stimulus source, the verification of electrical characteristics and functionality of the DUT (Device Under Test) can be done in one DSO.
80,000 wfm/s Waveform Update Rate and VPO Technique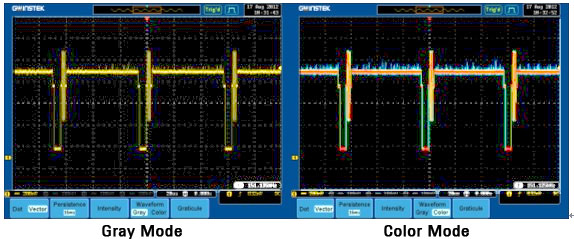 The waveform update rate of 80,000wfm/s enables users to accurately acquire and examine inrush signals and elusive glitches without missing any detail. Attributed to the advanced signal processing technique, VPO (Visual Persistence Oscilloscope), the grayscale display of waveforms shown on GDS-2000A distinguishes the signals from one another according to their occurrence frequencies respectively.
Modularized Structure and Advanced Features
Besides Logic Analyzer and Function Generator modules, the GDS-2000A series also provides optional LAN/SVGA Interfaces module and GPIB interface module. Additionally, the GDS-2000A series is equipped with all the features a high-tech DSO should have today. The 1mV/div vertical sensibility and the 1ns/div time base extend the measurement range to the smaller and faster signals. The abundant trigger functions enable the waveform capture under various test circumstances. And advanced math functions facilitate post-acquisition signal processing.
GDS-2000A Visual Persistence Oscilloscopes
GDS-2072A

GDS-2074A

GDS-2102A

GDS-2104A
GDS-2202A
GDS-2204A
GDS-2302A

GDS-2304A

Channels
2-ch + Ext
4-ch + Ext
2-ch + Ext
4-ch + Ext
2-ch + Ext
4-ch + Ext
2-ch + Ext
4-ch + Ext
Bandwidth
DC-70 MHz
(-3dB)
DC-70 MHz
(-3dB)
DC-100 MHz
(-3dB)
DC-100 MHz
(-3dB)
DC-200 MHz
(-3dB)
DC-200 MHz
(-3dB)
DC-300 MHz
(-3dB)
DC-300 MHz
(-3dB)
Rise time
5ns
5ns
3.5ns
3.5ns
1.75ns
1.75ns
1.17ns
1.17ns
Bandwidth Limit
20 MHz
20 MHz
20 MHz
20 MHz
20M/100 MHz
20M/100 MHz
20M/100M
/200 MHz
20M/100M
/200 MHz
Please refer to Data Sheet for complete specifications.
Includes: Quick start guide, User's manual and Power Cord.
Probes included (one per channel):
GTP-070A-4: 70 MHz (10:1/1:1) Switchable passive probe for GDS-2072A/2074A
GTP-150A-2: 150 MHz (10:1/1:1) Switchable passive probe for GDS-2102A/2104A
GTP-250A-2: 250 MHz (10:1/1:1) Switchable passive probe for GDS-2202A/2204A
GTP-350A-2: 350 MHz (10:1/1:1) Switchable passive probe for GDS-2302A/2304A
Display Type: 
8 TFT LCD SVGA
Estimated Mfr lead time:
14 Days