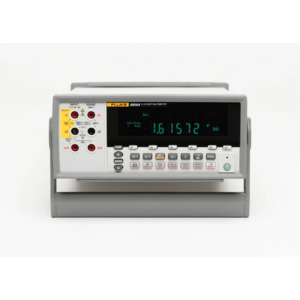 Estimated Mfr lead time:
23 Days
Description

Specifications

Documents
Fluke 8808a Digital Multimeter Key Features:
5.5 digit resolution
Dual vacuum fluorescent display
Measures V dc/ac, I dc/ac, Ohms, Frequency, Continuity, Diode
Basic V dc accuracy of up to 0.015%
Min, Max, Rel, dB, dBm
2x4 wire ohms measurement technique
Dedicated dc leakage current ranges
Six dedicated buttons for direct access to instrument setups
Hi/Lo limit compare for Pass/Fail testing
RS-232 interface
Fluke 45 Emulation
3-Year warranty
The Fluke 8808A multimeter has a broad range of functions, measuring volts, ohms and amps with a basic V dc accuracy of 0.01%. It is remarkably easy to use, even by unskilled operators, because it makes the measurements you perform most often extremely easy and fast to do.
Six setup buttons on the 8808A front panel operate like a car radio's station presets. Simply set up the meter for a common measurement, then press shift followed by a setup button (S1 to S6) to save the setup. Now each time you perform that measurement, you simply press the appropriate setup key. It's that easy!
The setup buttons eliminate the need to follow complex work instruction sheets. Operators no longer need to press multiple buttons to set up a measurement function and range, test limits, or enter other parameters to make a measurement.
Measure two parameters at once
The 8808A features a unique dual display that allows you to measure two different parameters of the same signal from one test connection. Looking at dual interrelated parameters like voltage and current simultaneously can reveal conditions that might go unnoticed otherwise, greatly simplifying test and troubleshooting.
Measure sensitive leakage current
Using a typical multimeter to perform a sensitive low current measurement of less than 100 mA can load the circuit under test while the measurement is made. This makes it difficult, if not impossible, to perform tasks such as determining the leakage current on a battery-powered device while it is powered down. The Fluke 8808A is the only multimeter in its class to use a high impedance input technique to perform this type of critical leakage current measurement. In this special mode, the 8808A can measure small currents with a resolution of up to 100 nA, without loading the circuit under test.
Includes:
5.5 digit multimeter, .01%
Meter
TL71 test leads
Line cord
USB to RS-232 interface adapter cable
FlukeView Forms Basic Software
Statement of calibration practices
WEEE information sheet
Warranty statement
Getting Started guide
CD Rom with user manual
Note: Fluke does not include a calibration certificate with these meters.
Alternate Product Number: 
2570235
Safety: 
Designed to comply with EN 61010-1:2001, ANSI/ISA 61010-1 (S82.02.01):2004, UL 61010-1:2004, AN/CSA C22.2 No. 61010.1:2004
Estimated Mfr lead time:
23 Days