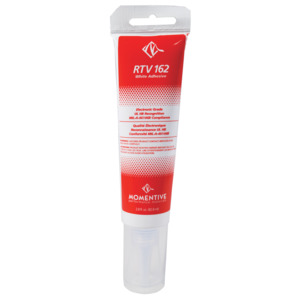 Estimated Mfr lead time:
31 Days
Description

Specifications
Non-corrosive to electronic metals, including copper and brass
Low odor cure, releasing an alcohol vapor from the sealant surface during cure
UL Recognition. RTV160, RTV162 and 167 are recognized by Underwriters Laboratories, Inc. under their Component Recognition Program (UL File No. E-36952)
Retains elastomeric properties for long periods at temperatures from -60°C (-75°F) to 205°C (400°F) and for short periods up to 260°C (500°F)
One component
Cure at room temperature
Excellent electrical insulation properties
Excellent resistance to moisture, dust, dirt, UV, ozone and chemicals
One-component, ready-to-use electronic grade silicone sealants. Cures to a tough, resilient silicone rubber on exposure to atmospheric moisture at room temperature.

Temperature Range: 
-60°C (-75°F) to 205°C (400°F) and for short periods up to 260°C (500°F)
Adhesive Material: 
Silicone
Estimated Mfr lead time:
31 Days