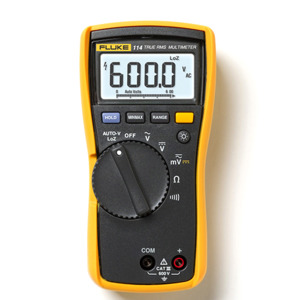 Description

Specifications

Documents
Key features of the Fluke-114 Electrical Multimeter
Ideal Digital Multimeter for "go/no-go" testing
Features AutoVolt automatic AC/DC voltage selection
Includes low input impedance to help prevent false readings due to ghost voltage
Presents a large white LED backlight for working in poorly lit areas
Measures resistance, continuity, frequency, and capacitance
Provides Min/Max/Average with elapsed time to record signal fluctuations
Designed for easy one-handed operation, the compact Fluke 114 True RMS digital multimeter is the perfect troubleshooting tool for go/no go testing. Its AutoVolt capability automatically switches to measure AC or DC voltage, whichever is present. And you can use the LoZ function to identify so-called ghost voltage and prevent false readings.
The Fluke 114 displays True-RMS voltage and current readings with 6000 count resolution, and tests frequency, continuity and resistance. A large white LED backlight aids work in poorly lit areas. And its easy-open battery access door makes battery changes easy.
A great choice for everyday troubleshooting, the Fluke 114 Electrical Multimeter is CAT III 600 V safety rated and is a compact True-RMS meter.
Fluke 114 multimeters are independently tested for safe use in CAT III 600V environments
Note: Fluke does not include a calibration certificate with these meters.
Alternate Product Number: 
2538783
Display Digits: 
6,000 Count