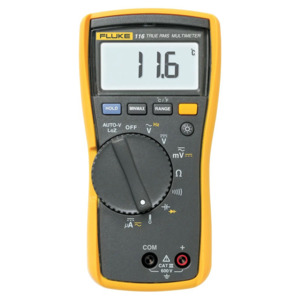 Estimated Mfr lead time:
22 Days
Description

Specifications

Documents
Fluke 116 Digital HVAC Multimeter Key Features:
6,000 Count display
True RMS
Built in thermometer and temperature probe included for HVAC applications
Microamps to test flame sensors
LoZ: low input impedance to eliminate ghost (stray) voltage to make more accurate measurements
Large, white LED backlight to work in poorly lit areas
Compact ergonomic design for one-handed operation
Min/Max/Average to record signal fluctuations
Compatible with optional magnetic hanger (ToolPak)
Resistance, continuity, frequency and capacitance
CAT III 600 V safety rated
TL75 Hard Point Test Lead Set
3 Year Warranty
The Fluke 116 HVAC Digital Multimeter provides the features needed to troubleshoot HVAC equipment
The Fluke 116 was specifically designed for the HVAC professional. It has everything needed in an HVAC meter including temperature and microamp measurements to quickly troubleshoot problems with HVAC equipment and flame sensors. Use the Fluke 116 to test motor start and run capacitors up to 10,000 microfarads. Rely on the Fluke 116 to make your everyday measurements †up to 600 volts ac or dc, 40 MΩ, diode test and exceptionally fast continuity.
Included in the box:
Fluke 116 Digital Multimeter
(1 pair) 4 mm silicone test lead set
80BK Integrated Temperature probe
Holster
Installed 9 V battery
Quick reference guide
Fluke 116 HVAC Multimeter Datasheet
Alternate Product Number: 
2538803
Battery Life: 
400 hours typical, without backlight
Estimated Mfr lead time:
22 Days