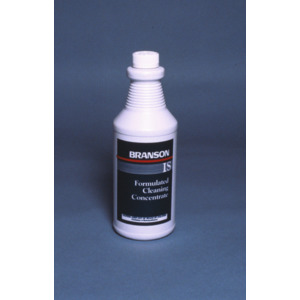 Estimated Mfr lead time:
21 Days
Description

Specifications
Industrial Strength, for Oils, Grease, Dirt
IS Industrial Strength concentrate cleaner is a biodegradable, phosphate and caustic-free alkaline cleaner formulated for heavy-duty industrial use. Branson IS solution readily removes heavier greases, oils, and particulates, as well as drawing lubricants and light carbon deposits. Applications include: removal of heavier soils from automotive, aircraft, and similar mechanical components, and cleaning prior to secondary finishing operations (including painting, plating and electrostatic coatings).

Estimated Mfr lead time:
21 Days