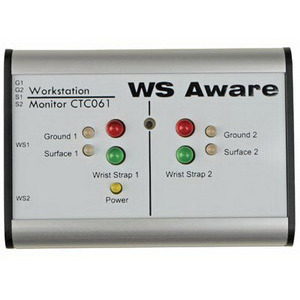 Description

Specifications
Assurance of continuous good grounding is the cornerstone of an ESD-safe environment. Utilizing the latest advances in digital signal processing, the SCS WS Aware Workstation Monitor provides continuous, uninterrupted monitoring of most grounding parameters on a workbench or in a tool, in compliance with ANSI 6.1 and ANSI/ESDA S.20.20 requirements, as well as high-frequency noise (EMI) on ground.

For operators, the WS Aware monitor utilizes dual wrist straps for a continuous resistivity check of human body connection and advanced DSP technology for reliable monitoring utilizing ultra-low control voltage. Each operator's body voltage is also continuously monitored.

For equipment, the WS Aware Monitor provides continuous monitoring for two metal grounds (i.e. tools) and for two "soft" grounds (i.e. dissipative mats, surfaces and parts made of dissipative plastics)

The WS Aware Monitor provides monitoring of EMI on metal grounds with programmable alarm thresholds. As electromagnetic interference (EMI) is rapidly becoming a significant factor in equipment failures, this patent-pending unique feature of the WS Aware monitor will help provide for the proper operation of your equipment.