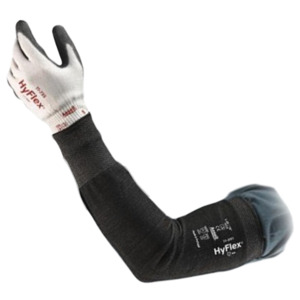 Estimated Mfr lead time:
14 Days
Description

Specifications

Documents
HyFlex 11-250 without thumb slot come in different lengths and widths for optimal fit and comfort to fit every worker in the best possible way.
Color-coding will help for easy sorting after laundry.
11-250 INTERCEPT sleeves are made of black yarn and are silicone free for friendly paint and finish process.
The special knitted bicep cuffs keep the sleeve in place.
Compliant with FDA food handling regulations 21 CFR 177.1520 and 21 CFR 177.2601
INTERCEPT Seamless High-Performance Polyethylene (HPPE) Without thumb slot. This industrial protective sleeve with INTERCEPT Cut Resistance Technology provides best-in-class cut protection and a soft and cool feel to the worker. The seamless design and the options of lengths and widths ensure an excellent fit and makes it the first choice for all day comfort. The HyFlex 11-250 INTERCEPT industrial protective sleeves are engineered to perform in combination with any HyFlex cut resistant glove. Red and black over edge is to indicate wide (black) and narrow (red) for easy laundry sorting purpose.

Package Quantity: 
50 sleeves per box
Product Type: 
Industrial Sleeves
Lining Material: 
Ansell INTERCEPT Technology
Standards: 
EN 388:2016 | EN 388:2003 | EN 420:2003 + A1:2009 | EN 420:2003 + A1:2009 | EN 388:2003 | ANSI Cut A3 | Food Contact | OEKO-TEX® CITEVE | Category II
ANSI ISEA Cut Resistance Level: 
A3
Case Size: 
27.2cm x 15cm x 28.6cm
Industry Type: 
Automotive | Automotive Aftermarket | Machinery and Equipment | Metal fabrication
Estimated Mfr lead time:
14 Days