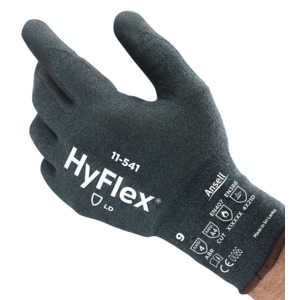 Estimated Mfr lead time:
14 Days
Description

Specifications

Documents
Ultralight weight glove that offers unparalleled dexterity and refined mobility.
ZONZ knitting technology uses selected yarns and varying stitch designs to tailor overall glove fit to enhance hand movement for higher dexterity and reduced fatigue.
Silicone-free design is paint and finish process friendly.
Dirt masking palm for longer wear times.
Also available in vend pack.
These HyFlex 11-541 cut-resistant gloves optimize the convergence of protection and performance. It features an 18G ultralight weight liner with INTERCEPT TECHNOLOGY yarns that provides ANSI cut 4. The liner also features ZONZ Comfort Fit technology for breathability and ergonomic movement. The palm-dipped coating and the FORTIX formulation in these lightweight cut-resistant gloves provide enhanced abrasion resistance and grip. To provide all four advanced performance technologies, including ANSI cut 4, in a comfortable, flexible ultralight weight style, is a game changer for applications where workers have traditionally guarded against cut risks with heavier styles that limit their dexterity and breathability.

Package Quantity: 
12 pairs in a bag; 12 bags in a carton
Product Type: 
Industrial Gloves
Grip Surface: 
Ansell Grip™ Technology
Lining Material: 
Kevlar | Nylon | Spandex | Stainless steel
Standards: 
EN 388:2016 | EN 388:2003 | EN 407:2004 | EN 420:2003 + A1:2009 | ANSI ABR 4 | ANSI Cut A4 | Category III | REACH Compliant
ANSI ISEA Abrasion Resistance Level: 
4
ANSI ISEA Cut Resistance Level: 
A4
Case Size: 
49.53cm x 33.02cm x 28.194cm
Industry Type: 
Automotive | Machinery and Equipment | Metal fabrication
Estimated Mfr lead time:
14 Days