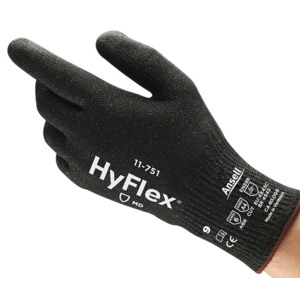 Estimated Mfr lead time:
14 Days
Description

Specifications

Documents
INTERCEPT Technology for high level of cut protection EN ISO levelC cut protection.
High durability PU coating, increased levels of abrasion resistance with high durability PU coating.
Dirt masking design allows forextended product use, excellent comfort and dexterity.
In compliance with the standardsEN420 (General requirements) andEN388 (Mechanical hazards) byCentexbel.
Also available in vend pack.
These abrasion-resistant gloves with INTERCEPT Technology deliver excellent cut performance providing ISO level C, ANSI cut A4, and meet EN420 standards. Increased abrasion resistance and durability for prolonged use and wear. Lightweight, flexible liner provides enhanced comfort in a dirt-masking design.

Package Quantity: 
12 pairs in a bag; 12 bags in a carton
Product Type: 
Industrial Gloves
Lining Material: 
HPPE | Fiber Glass | Nylon | Spandex
Standards: 
EN 388:2016 | EN 388:2003 | EN 420:2003 + A1:2009 | CE Number | EN 420:2003 + A1:2009 | ANSI ABR 6 | ANSI Cut A4 | Category II | REACH Compliant
ANSI ISEA Abrasion Resistance Level: 
6
ANSI ISEA Cut Resistance Level: 
A4
Case Size: 
60cm x 40cm x 23cm
Industry Type: 
Automotive | Machinery and Equipment | Metal fabrication
Estimated Mfr lead time:
14 Days