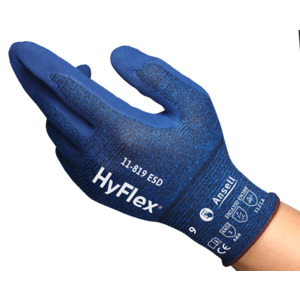 Estimated Mfr lead time:
15 Days
Description

Specifications

Documents
ESD Certified, Touchscreen compatible.
HyFlex 11-819 is a safety glove with ESD functionality certified to EN 16350:2014, protecting products against electrostatic discharge.
In addition, as part of a grounding chain, they can be used in explosion hazard zones (ATEX ATmosphères EXplosives).
It's touchscreen functionality allows the wearer to work with multiple touchscreen devices while keeping safety gloves on Long Lasting Protection.
The FORTIX nitrile foam coating offers excellent grip and long lasting protection, reducing the total cost of ownership.
Barehand-like tactility.
The seamless 18 gauge nylon and spandex liner combined with the ultra-thin FORTIX coating provides protection while maintaining bare hand sensitivity for tasks that require dexterity and precision.
Comfortable, Clean and Skin Friendly.
The careful selection of materials, the Ansel ZONZ Comfort Fit Technology and proprietary washing process makes the HyFlex 11-819 a clean, ultra breathable and highly comfortable glove.
Dermatologically approved by Dermatest and certified by OEKO-TEX.
Ultra-thin coating provides increased sensitivity for precision tasks. Ansell FORTIX Abrasion Resistance Technology. Provides long lasting protection in abrasive environments. 20% more breathable vs standard safety gloves for cooler, drier hands. Ansell ZONZ Comfort Fit Technology for enhanced fit and feel. Benefits from proprietary washing process to deliver a cleaner, more comfortable glove. Clean and Skin Friendly : Oekotex Certified and Dermatologically tested by Dermatest. ESD certified according to EN16350 : 2014. Touchscreen Technology for use on consumer and industrial touchscreens.

Package Quantity: 
12 pairs/bag, 12 bags/carton
Product Type: 
Industrial Gloves
Lining Material: 
Nylon | Spandex | Carbon
Standards: 
EN 388:2016 | CE Number | EN 16350:2014 | EN 420:2003 + A1:2009 | Dermatologically Tested | OEKO-TEX® Centexbel
Case Size: 
45cm x 34cm x 25.5cm
Industry Type: 
System Object
Estimated Mfr lead time:
15 Days