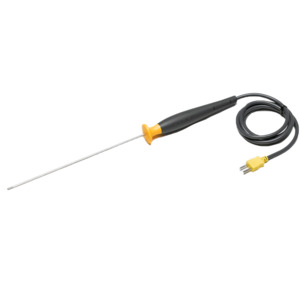 Estimated Mfr lead time:
11 Days
Description

Specifications

Documents
All probes listed are for type-K instruments. See pictures and descriptions under the Description tab.

SureGrip™ Temperature Probes
The innovative SureGrip™ design from Fluke is now available in select temperature probes. The soft rubber handle combined with a new ergonomic shape is so comfortable to hold that you'll forget about the probe and focus on the measurement. All SureGrip™ probes have an improved, more flexible strain relief for a long life.

80PK-22 SureGrip Immersion Probe (replaces 80PK-2A)

For use in liquids or gels, use also for general purpose measurement.
Measurement range: -40° to 1090°C (-40° to 1994°F)
8.375 inch probe made from Alloy 600

80PK-24 SureGrip Air Probe (replaces 80PK-4A)

Perforated baffle around the measurement bead for air and non-caustic gas measurements.
Measurement range: -40° to 816°C (-40° to 1500.8°F)
8.5 inch probe made from Inconel

80PK-25 SureGrip Piercing Probe (replaces 80PK-5A)

For general food service applications; designed for use in soft or semi-hard materials.
Measurement range: -40° to 260°C (-40° to 500°F)
Soft rubber handle can be cleaned with soap and water
4 inch probe made from 316 stainless steel

80PK-26 SureGrip Tapered Probe (replaces 80PK-6A)

Use for general purpose surface and air measurements.
Measurement range: -40° to 816°C (-40° to 1500°F)
8 inch probe made from 304 stainless steel


80PK-27 SureGrip Industrial Surface Probe (replaces 80PK-7)

Heavy duty industrial grade probe for flat or slightly curved surfaces.
Low conductivity stainless steel housing minimizes thermal shunting.
Measurement range: -127° to 600°C (-196° to 1112°F)
8 inch probe made from 300 stainless steel
80PK-1 General Purpose Bead Probe

Good accuracy and fast response. Not for liquid immersion.
-40 to 260°C (-40 to 500°F)

80PK-3A Flat Surface Probe

For measuring flat or slightly convex surfaces
Exposed junction for direct surface contact.
0 to 260°C (32 to 500°F)

80PK-8 Pipe Clamp Probe
For pipe surfaces from 0.25-inch (6 mm) to 1.375-inch (35 mm) diameter. Spring-action jaw.
-29 to 149°C (-20 to 300°F)
80PK-9 General Purpose Probe
Surface probe and for insertion into air and non-caustic gas environments.
Probe made of 304 stainless steel.
-40 to 260°C (-40 to 500°F)
80PK-10 Large Pipe Clamp Probe
For large pipe surfaces from 1.25-inch (32 mm) to 2.5-inch (64 mm) diameter. Spring-action jaw.
-29 to 149°C (-20 to 300°F)
80PK-EXT Extension Wire Kit
For extending and repairing K-type thermocouple wires.
Includes 3 meters (approx. 9 feet) of thermocouple wire and
1 pair of male/female mini-connectors.
Max. to 260°C (500°F)

80PK-11 Type-K Flexible Cuff
Thermocouple Temperature Probe
Use with any temperature-measuring instrument designed to accept Type-K thermocouples
-30º C to 150ºC
Max. to 150°C (302°F)
Alternate Product Number: 
2098684
Estimated Mfr lead time:
11 Days