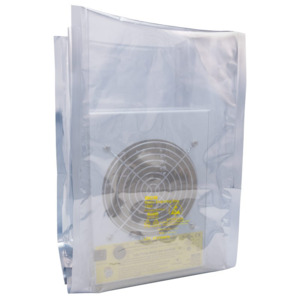 Description

Specifications
Side Gusset with Sealed Bottom
Expand to fit large, bulky items. Ideal for use as liners for cartons or bins
Metal-In Film Laminate 0.0028" thick (2.8 mil)
Protects ESD sensitive contents from electrostatic fields and electrostatic discharges (ESD)
<20 nJ Discharge Shielding Energy Limit Test per ANSI/ESD STM11.31
Meets ANSI/ESD S20.20 and ANSI/ESD S541 requirements for ESD shielding packaging inside and outside an ESD Protected Area (EPA)
Dissipative Inner and Outer Surfaces Rs 1 x 104 to <1 x 1011 ohms per ANSI/ESD STM11.11 and Static Control Bag ANSI/ESD S11.4 Level 3
Allows bag to be used throughout an ESD Protected Area and grounded when placed on a grounded surface or handled by a grounded operator
Printed with ESD Protective Symbol and Lot Code Information
Meets the requirements of ANSI/ESD S541 for quality control purposes
Custom sizes are available
Lead-free RoHS 2, REACH and Conflict Minerals Compliant
Made in the United States of America. This item is made in Sanford, NC.