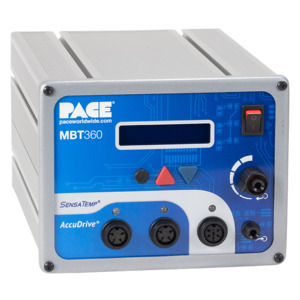 Description

Specifications

Documents
Buy what you need now. Add capability later.
With PACE's new system and handpiece line, you can mix and match handpieces and systems, reduce inventory requirements and maximize cost savings!
The MBT360 is truly the best of both worlds, combining PACE's renowned SensaTemp® heating technology, which boasts superior performance and versatility, with our new advanced AccuDrive® tip-heater cartridge capability for today's most challenging production soldering and rework applications.The MBT360 allows the user to customize their workbench with any AccuDrive or Sensatemp handpiece for maximum capability, versatility and economy.
Only PACE offers complete interoperability and interchangeability across its entire new system and handpiece line.
Two AccuDrive  ports, one SensaTemp  port and the self-contained auto Snap-Vac  pump.
ISB and Auto-Off capability increases tip-life up to 6 times and greatly reduces tip costs.
ccuDrive  Tip-Heater Cartridges meet and exceed ANSI/J-STD-001 Absolute Temperature Accuracy Requirement without the need for calibration.
Backlit, digital LCD screen displays set and actual temperatures of all three channels
Password protected settings allow the operator to work within an approved temperature range or at a single temperature.
Includes: 
MBT360 Power Source
Temperature Range: 
AccuDrive 177-454C (350-850F); SensaTemp 37-482C (100-900F)