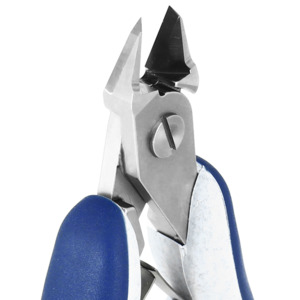 Estimated Mfr lead time:
30 Days
| Qty: | Price: | Savings |
| --- | --- | --- |
| 1 | $220.08 | |
| 5 | $209.08 | Save 5% |
| 10 | $198.07 | Save 10% |
| 30 | $193.67 | Save 12% |
Description

Specifications

Documents
Engineered for hard wires.
Tungsten carbide blades.
81 HRC hardness.
Perfect symmetry.
Dual leaf springs made of stainless steel.
Lap joint with screw to achieve a high level of strength and precision.
Nuts made of hardened alloy steel to resist high cutting load.
Fine-pitched screw for perfect joint adjustment.
The 552GTX is a high precision cutter belonging to the large Tungsten Carbide cutters family. The tapered and relieved geometry combined with the arrow geometry of the tips offer the best advantage to access small areas, while the 552GTX head dimensions support the cut. The full-flush cutting edge is suitable to perform very clean cuts on the hardest wires. The 552GTX is equipped with an ESD Ergo-tek slim handle which allows an excellent grip, suitable to environments and to components susceptible to electrostatic discharge.

Tungsten Carbide Cutters are specially designed for cutting hard metals and tough wires (Piano Wire, Diode Leads, Nickel, Stainless Steel, Nitinol). They can be used on single or multiple filars and for lateral or internal cuts. Typical applications include cutting stents, braided mesh, catheters and guide wires in medical device manufacturing.

Alternate Product Number: 
552GTX
Handle Type: 
Ergonomic Slim
Type: 
Tungsten Carbide Cutters
Handle Material: 
Bi-component Rubber Plastic
Head Style: 
Large Tapered and Relieved Head
Cutting Wire Range: 
44-34 AWG
Estimated Mfr lead time:
30 Days
| Qty: | Price: | Savings |
| --- | --- | --- |
| 1 | $220.08 | |
| 5 | $209.08 | Save 5% |
| 10 | $198.07 | Save 10% |
| 30 | $193.67 | Save 12% |