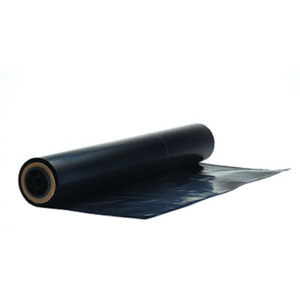 Description

Specifications

Documents
Velostat 1700 Series Conductive Film is constructed of opaque, volume-conductive, carbon-impregnated polyolefin material
Cost effective conductive film is used for material handling, shipping and storage in the electronic or chemical industries
Black, carbon-filled, volume-conductive polyethylene film is groundable and designed to provide both physical and static protection - conductive properties are unaffected by humidity and age
Conductive film is designed to dissipate a charge and should not become electrically tribocharged
Film is heat-sealable, flexible and offers exceptional chemical and abrasion resistance
Free of amines, silicones and heavy metals
RoHS Compliant
5-Year Limited Warranty from date of shipment
Material Type: Conductive Carbon-Loaded PE.
Color: Black.
Film Thickness:4.0mil (102 microns).
Thermal Properties: Heat Sealable.
Volume Resistivity: <500 ohm-cm.
Static Decay: <2 sec.