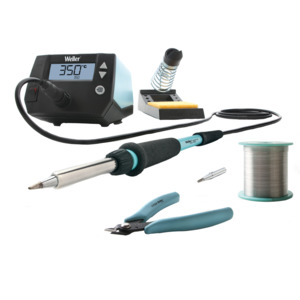 | Qty: | Price: | Savings |
| --- | --- | --- |
| 1 | $203.00 | |
| 5 | $196.91 | Save 3% |
| 20 | $188.79 | Save 7% |
| 50 | $180.67 | Save 11% |
Description

Specifications

Documents
Power unit, 1 channel with soldering iron WEP 70 and safety rest PH 70; Shearcutter 170mn; WSW SCN M1 Solder Wire 100 g; Soldering Tips ETA 1.6 mm; ETB 2.4 mm
70W solder iron with ergonomic handle and providing tool-less tip change
ESD safe station, iron and heat-resistant silicon cable for safe handling
Standby mode and auto setback conserves energy, protects equipment
Password-protected to preserve settings
170MN general purpose shearcutter, diagonal, flush. Greatly reduced mechanical shock delivered to the component, ESD safe
WSW solder wire; all purpose solder wire with excellent wetting properties
Includes: Power unit, 1 channel 70 W with soldering iron WEP 70 and safety rest PH 70; Shearcutter 170mn; WSW SCN M1 Solder Wire 100 g; Soldering Tips ETA 1.6 mm; ETB 2.4 mmspecial id="56">
special id="56">
The iron heats up fast, ability to reach 660°F in 28 seconds, to provide a fast recovery time – gets the job done quicker with more efficiency and precision. When not in use the iron Sets temperature back automatically to save energy and increase tip life­time. The station is designed in a state-of-the-art housing with front panel power switch for easy access and is ESD safe. Station automatically powers down to a given temperature when not in use. All settings can be secured with a password, so that predefined settings can be maintained in order to ensure process quality. The kit also comes with a new high performance 70 W soldering iron with an ergonomic handle and easy toolless tip change solution.
Replacement for 4ETH, 4ETK, 4ETO, 4ETS necessary. For WEP 70 4ETHL, 4ETKL, 4EKOL and 4ETSL must be used.



Temperature Range: 
200-850
Dimensions L x W x H: 
150 x 120 x 98
Temperature Accuracy: 
+/- 9F at idle with no load
Temperature Stability: 
+/- 10F°F
| Qty: | Price: | Savings |
| --- | --- | --- |
| 1 | $203.00 | |
| 5 | $196.91 | Save 3% |
| 20 | $188.79 | Save 7% |
| 50 | $180.67 | Save 11% |