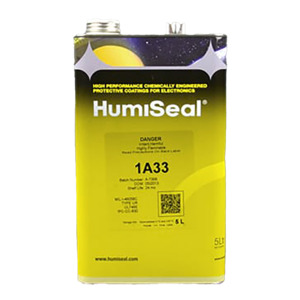 Estimated Mfr lead time:
7 Days
Description

Specifications

Documents
HumiSeal 1A33 Urethane Conformal Coating is a one component, polyurethane coating that is used for circuit board applications. It contains no free isocyanates and fluoresces under UV light to aid inspection. It can be applied by spraying, brushing, or dipping methods.
Well suited for general printed circuit board applications.

Cure Time: 
30d @ room temperature; 30h @ 76 C; 20h @ 88 C
Estimated Mfr lead time:
7 Days