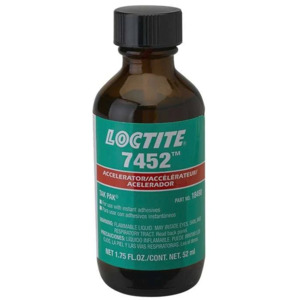 Estimated Mfr lead time:
14 Days
Description

Specifications

Documents
Cures excess adhesive
Provides excellent cosmetic appearance avoiding the white discoloration of instant adhesives
Not recommended on plastics prone to stress cracking
LOCTITE SF 7452 is transparent, light amber, cure-speed accelerator for the increased cure speed of LOCTITE cyanoacrylate adhesives. It can be either pre- or post-applied. It is especially suited for post-application on cyanoacrylate adhesive to ensure rapid fixturing. Typical applications include securing wires or coils to PCBs, tamper-proofing adjustable components, mounting stand-offs, edge guides and board stiffeners.

Container Size: 
1.75 fl. oz.
Special Features: 
Brush Lid
Estimated Mfr lead time:
14 Days