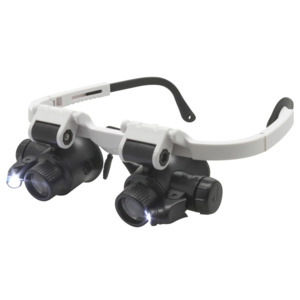 Description

Specifications

Documents
This innovative headband magnifier is designed for a wide range of hands-free magnification needs. Applications include mechanical processing, electronics repair, jewelry inspection and appraisal, clock and watch repair, carving, hobby work, and more. Includes 5 auxiliary lenses (use up to two lenses at once), and a built-in swing-out lens that can combine for a maximum 14x magnification.

Aven's Eye Loupe Inspection Goggles are designed for comfortable up-close inspection. The frames feature bright LEDs for applications where additional illumination is required. This set includes 6 pairs of interchangeable lenses, providing a magnification range of 6x - 25x.
Ergonomic Up-Close Inspection
This innovative magnifier system is designed for up-close and inspection, with a magnification range of 6x - 25x. With the eye loupes attached to the frames, operators can bring objects up to their eyes rather than constantly bending over to view objects.
Innovative and Customizeable
Aven's Eye Loupe Inspection Goggles can be customized for operator comfort. The stems can be lengthened and shortened to the required length, and the lens barrels can be adjusted vertically for comfortable use. The lens barrels can also be flipped upwards, so the operator does not need to repeatedly remove the goggles when not in use.
6 Pairs of Lenses Included
Up to 25X Magnification
This system includes 6 pairs of auxiliary lenses, offering the flexibility to choose your magnification. See the Optical Information tab to review magnification and working distance data.
Designed for comfortable up close inspection
Set includes 6 pairs of lenses, ranging from 6x - 25x
Built in LEDs provide additional illumination when needed
Frames can be lengthened/shortened to the required length
The lenses can be flipped upwards when not in use, so the operator does not have to remove the goggles.
The lens barrels can be adjusted horizontally to accommodate the operator's face
Magnification: 
6X, 8X, 10X, 15X, 20X, 25X
Type of Illumination: 
LED