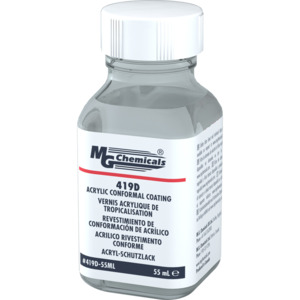 Estimated Mfr lead time:
12 Days
Description

Specifications

Documents
Certified UL 94 V-0 (File # E203094)

Certified IPC-CC-830B

Super-fast cure – tack free in about 10 min; dries in 30 min at 65 °C [149 °F]

Protects circuit boards from moisture, corrosion, fungus, and static discharges

No hazardous air pollutants (HAPs) – free of toluene or xylene, free of ozone depleting compounds

Excellent finish – smooth, homogeneous and durable clear coat

Easy to inspect – fluoresces under UV light

Easy rework and repairs – removable with MG's 435 Thinner, 8309 or 8310A conformal coating removers

Validated for selective robotic coating equipment including PVA and Nordson ASYMTEK


419D is a fast drying, acrylic based circuit board protective coating that cures to a durable, flexible and smooth finish. This 1-part circuit board coating is easy to apply and can be handled in 10 minutes. It can be readily removed with appropriate strippers, or soldered through for repair or rework.

This circuit board coating creates a robust moisture barrier that protects printed circuit boards in humid environments. It strongly protects against moisture, condensation, humidity, corrosion, fungus, dirt, dust, thermal shock, short circuits, high-voltage arcing, and static discharge.

This product is also available in spray and pen formats.

Estimated Mfr lead time:
12 Days