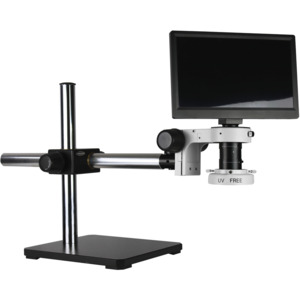 Description

Specifications

Documents
Macro zoom optics (Up to 50x)
1080p HD USB/HDMI Camera/Monitor Combination
SD/USB Image capture
Diffused LED Ring light
Single arm boom stand
The MAC3 Camera from Scienscope is an all-in-one camera with an integrated monitor and software. The MAC3 Camera can be used as a "live image" HD (1080p) camera or as a USB 2.0 camera with a USB cable connected to any computer or Windows Tablet. The Camera can be connected to any microscope or optical system with a C-mount, so you can instantly upgrade your system. With a monitor mounted directly to the Camera, a limited workspace is never a problem, and your ergonomics will also improve.

Features:
Up to 40x magnification with 8" working distance.
Single arm boom stand.
1080p HD camera and 12" LCD monitor combination with SD and USB Image capture.
Diffused Compacted LED Ring light.
All systems include camera/monitor combo with 8GB SD card, wireless mouse, USB cable, power supply, and image capture software.
Type of Base: 
Single arm boom stand
Type of Illumination: 
Diffused LED Ring Light